The Farewell of a Lifetime
The gracious and elegant documentary about the fashion designer Valentino was a surprising box-office hit when it opened in New York in March 2009, after premiering in the Venice Film Festival in 2008. Valentino: The Last Emperor touched upon more than the fashion designer's glamorous career and opulent lifestyle.
On the heels of his 2008 exit from the company he founded in Rome over 45 years ago, the film focuses on the final years of his work and the final sweeping closing of his career, as well as some overarching fashion industry issues. The heart of the film, however, is the relationship between Valentino (76) and his longtime partner in business and love, Giancarlo Giammetti.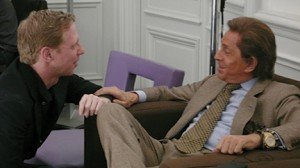 Produced and directed by Matt Tyrnauer, Special Correspondent for Vanity Fair magazine, the film documents the duality of his grand farewell –– both celebratory and saddening. As the designer bids Adieu to his company and the world from the Roman Colosseum, there is an overpowering sense that we are saying goodbye to far more than one designer, but to a way of living.