Massimiliano Alajmo comes from a long line of successful chefs and restaurateurs. In 1993, Alajmo began to work with his mother, chef Rita Chimetto, at Le Calandre in Veneto, Italy. He was appointed head chef a year later. When the restaurant received its third Michelin star, Alajmo became the youngest chef to obtain the achievement at 28 years old. His culinary work is a combination of inspiration, creativity and a dash of madness. Alajmo heads three gastronomic restaurants, three café-bistros and a food product line – all originating from Le Calandre, his dynamic culinary workshop. In 2006, he worked with his brother to publish an award winning cookbook titled In.gredienti.
Bruno Barbieri's professional career started out differently than many other chefs. His began on the sea in 1979 where he was a cook on Oceanica, a cruise ship with over one hundred cooks on board. After spending a few more years mastering his craft, he opened up Locanda Solarola in Bologna, which received two Michelin stars in back to back years. Barbieri has a passion for writing, as well – in 2005 he authored a book titled Pans, which offers cooking tips for his readers. He has continued to write and now has a collection of nine books to his name. Barbieri is also well-known for appearing as a judge on MasterChef Italia alongside Joe Bastianich and Carlo Cracco.
Enrico Bartolini has seen much success in his career, even at the young at of 36. He has worked in the kitchen of Massimiliano Alajmo, with Mark Page in London and in Paris as a sous chef for Paolo Petrini. He received his first Michelin star at 29 and his second at 33. Bartolini blends old habits with cutting edge modernization to create original flavors that are balanced and significant. Bartolini believes the kitchen must have an innovative personality. He joined Devero in 2010 and came up with the phrase "Be Contemporary Classic" to add to the persona of the restaurant. The internationally renowned chef continues to impress the world of Italian cuisine.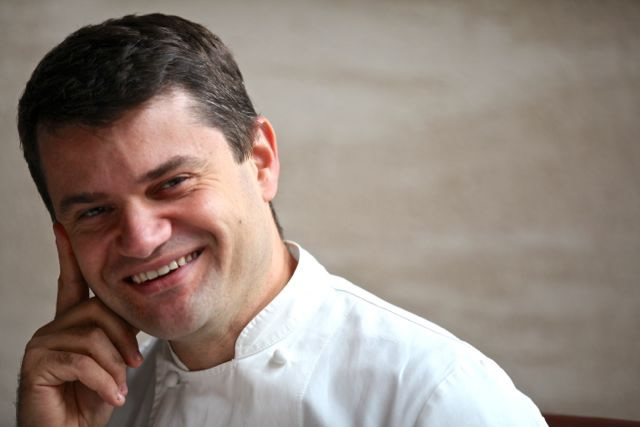 Joe Bastianich grew up surrounded by the food industry. His mother, Lidia Bastianich, provided many opportunities for him to master his craft in the kitchen from an early age. Joe is a multitalented restaurateur, focused on the business side of the culinary world. Joe teamed up with Mario Batali to create B&B Hospitality Group which brought Eataly to NYC, a still-growing phenomenon that doubles as a restaurant and marketplace full of Italian cuisine. He is also well known for his role on the television show MasterChef Italy as one of the three judges. In 2012, Bastianich became a New York Times Best Seller for his memoir, Restaurant Man.
Lidia Matticchio Bastianich is one of the most well-known Italian chefs in the food industry. This world famous personality got her start by opening Bunavia, a small restaurant in Forest Hills, Queens. In 1998, Lidia made her debut for Public Television. Her television program titled Lidia's Italian Table brought her charm and cooking skills to a large audience. She has since been a prominent member of the celebrity chef ensemble. Lidia is also seen as one of the most successful authors in the culinary world; she has authored over a dozen cookbooks giving many at-home instructions for her delicious meals.
Mario Batali has the personality to match his expertise in the restaurant world. Batali is a well-known chef involved in ownership of many of the top restaurants across the country. His career began flourishing when his Food Network Show Molto Mario aired in 1996. Since then, Batali has been known for his personality and even his distinct clothing style marked by his famous Orange Crocs. Working with Joe Bastianich at B&B Hospitality Group, Batali has helped to open several top restaurants (Babbo, Otto, Lupa) in New York City, where he currently resides. In 2008 he founded the Mario Batali Foundation to "ensure all children are well read, well fed and well cared for."
Matteo Bergamini knew from an early age that the restaurant industry was where he would end up. At age 10, Bergamini worked with his father in the family butcher shop. He attended Caterina De Medici Hotel School where he learned much of what he knows today about Italian cuisine. After school, Bergamini worked in the United States, France, and Italy before finally settling down in New York City. In 2009, he partnered with Chef Odette Fada to open SD26 in Madison Square Park. Bergamini adds a unique modern approach to Italian cuisine, he was awarded Best Emerging Chef of Italian Cuisine in New York in 2013.
A surprise visit from a famous chef lead to the discovery of Massimo Bottura. Alan Ducasse happened to pass by Bottura's tiny restaurant Trattoria del Campazzo, right outside of Modena. Ducasse fell in love with Bottura's style and menu and asked if he wanted to come and work together in Monte Carlo. Bottura was able to continue developing the style which he learned from his grandmother under the tutelage of Ducasse. In 1995, Bottura opened Osteria Francesca, located in the center of Modena. This restaurant has remained at the top of many lists as far as ranking Best Restaurant on both the national and global level. Bottura has also written four books, his most recent in 2014 titled Never Trust a Skinny Italian Chef.
Enrico Cerea is a chef that uses a bit of everything in the kitchen. Cerea follows in the footsteps of his parents Bruna and Vittorio, he would spend all of his time as a child learning their recipes. He uses his family recipes in combination with his attention to detail to make cuisine that is direct but not simple. Cerea is the executive chef at Da Vittorio near Lombary, Italy. He is constantly searching for new ingredients from all over the world to incorporate into his meals. Cerea has been known to create many types of Latin American or South East Asian cuisine.
Lorenzo Cogo is a young emerging star in the Italy's cuisine culture. At just 25 years old he won his first Michelin star after opening El Coq in Marano Vincentino. He has experience in countries such as Australia, Japan, Spain, Singapore, and Denmark. His cuisine blends East and West in an unusual but pleasant mix of flavors, it allows people to live a real and unique sensory experience. Cogo has already accomplished so much at such a young age, he has a lot left to give to the culinary world.
Carlo Cracco got his start at the IPC in Recoaro Terme. Cracco began his professional career when he worked in the kitchen of Gualtiero Marchiesi in Milan, the first Italian restaurant to be awarded 3 Michelin stars. After working in France, he returned to Italy; he now runs Cracco di Milano which has received 2 Michelin stars. His success in the restaurant world is matched by his strong opinions and charm. His personality is what has lead him to success on television. He is a judge on MasterChef Italy as well as Hell's Kitchen Italia. Cracco was appointed Ambassador of the Lombardy Region for Expo2015.
Enrico Crippa is a well-traveled chef with strong attention to detail. He began working at age 16 in Milan. He has had the opportunity to work in many parts of France, including Cannes and Paris, and even spent some time in Japan. In 2005 Crippa made his way back to Italy and opened Piazza Duomo in Piedmont. He is attentive and perfectionistic, and seeks to use seasonal ingredients while giving dishes a creative twist. It is difficult to find a flaw in Crippa's work, as it is so personal and energetic. After many years of excellence, Crippa received his third Michelin star in 2012.
What separates D.C restaurateur Mike Isabella from the rest is his diverse range of culinary styles. He owns Graffiato, an Italian-inspired restaurant; he also owns two Greek restaurants (Kapnos Taverna and Kapnos Kouzina), a Mexican cantina (Pepita), and a Japanese noodle bar (Yona). Isabella gathered experience in New York City, Philadelphia, and Atlanta before settling in the American capitol. Chef Isabella was named FOOD & WINE Magazine's "People's Best New Chef in the Mid-Atlantic" in 2012 and was nominated for Restaurateur of the Year in 2015. As a television personality, he has competed in Top Chef, Top Chef Duels, and Top Chef All-Stars; he is currently a judge on Man vs Child: Chef Showdown.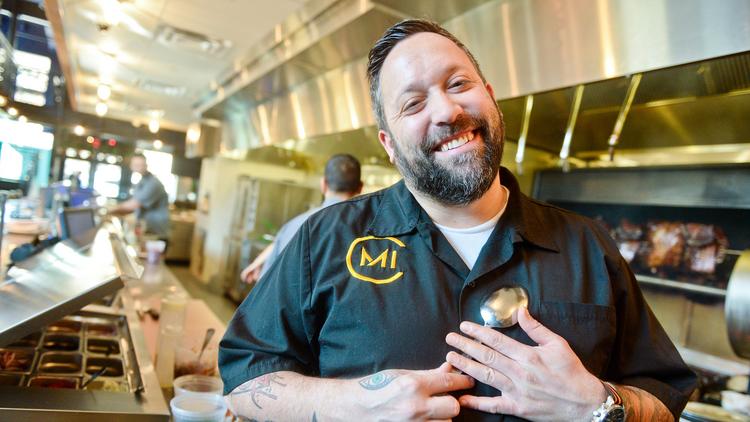 Davide Olandi opened his first restaurant, D'O, in his hometown of Cornaredo, Italy in 2003. D'O was soon labeled a "pop kitchen" (meaning that it is a high quality restaurant with accessible prices), a category which earned him instant praise; food guides around the country started mentioning him to tours as one of the top chefs of contemporary Italian culture. In 2008, Davide Oldani was awarded the Ambrogino d'Oro by the City of Milan. He is best known as a chef who values design just as much as food; whether it is presentation of a meal or the structure of a restaurant, Oldani is always a step ahead in culinary composition.
Giancarlo Perbellini was raised in a traditional rural area in Bovolone and grew up with a passion for making pastries. The earth and its spoils are vital resources for this artisan chef. In 1992 he was awarded the Chef Europeen du Poisson. Since 2010, Perbellini has been the President of the Italian Commission for the Bocus D'or. Along with his success as a restaurateur, he also is the author of Casa Perbellini: Arte Nella Classicita which examines his roots and how it shaped him to become the chef he is today.
Nadia Santini is the heart and soul of cuisine in Po Valley. The care she takes to capture the Po Valley territory using local ingredients and hand crafted dishes at her restaurant Dal Pescatore earned her the accomplishment of being the first Italian woman to be awarded three Michelin stars (2013). She was named Veuve Clicquot World's "Best Female Chef" that same year. Dal Pescatore is a restaurant that has been with the Santini family for generations; Nadia believes in a "refined but not overdone kitchen," and it has served her well through the success of her traditional cuisine.
Davide Scabin is a revolutionary chef with a continuous desire to experiment combining distant flavors for a harmonious outcome. At age 16, Scabin left his hometown in Turin to work at a restaurant in Sardiana; his talents were noticed, as he quickly moved up the ranks. Now Scabin is a Michelin-starred chef who does not stop studying and evolving. It is evident through his dishes at Combat.zero in Rivoli that he is a perfectionist. The presentation is just as important as the taste for this chef. Along with owning a prestigious restaurant, Scabin has made frequent appearances on Italian cooking shows as judges and guests.
Bruno Serato came to the United States 30 years ago from Verona, Italy. He has been a successful owner of the White House restaurant in Anaheim, California which has earned him fame. It his charitable efforts though, that make Serato such an impactful figure. Serato and his mother Caterina were inspired to try to feed as many hungry children as possible after a visit to the Boys and Girls club in 2005. Bruno started an organization called Caterina's Club (named after his mother) in an attempt to make sure no child goes to sleep without having dinner. "I can't go to sleep unless I've done everything I can to feed a hungry child for the day." He puts in the work to accomplish his goals; he was named one of CNN's 10 Heroes of the year in 2011 and has been featured in multiple media outlets for his good deeds. Serato serves nearly 1,400 underprivileged children dinner every night.
Mauro Uliassi learned the tricks and trades of the restaurant industry from working at a bar owned by his parents, Franco and Biana Maria. After completing school, Uliassi worked various jobs in restaurants throughout Italy, but he found that he wasn't enjoying the stress that came with working under another person. He currently runs Ristroante Senigallia in Northern Italy. Uliassi prefers to treat cooking like a game, a testament to his fun and easy going personality, while having a simultaneous awareness of the quality and freshness of his ingredients.
Fabio Viviani spent his childhood working in the restaurant industry growing up in Florence, Italy. Vivani began working at a local bakery at just 11 years old and became a sous chef by age 16. From there, he continued his trend of early age success; by the time he was 27, Viviani owned five restaurants in Florence. He is perhaps best known for his infectious on-screen personality, which began on season 5 of Top Chef. He was considered a fan favorite of the program and has since been involved in many other television shows. He expanded his platform in 2013 when he opened up Siena Tavern in Chicago, IL. Viviani has added more restaurants in Chicago and one in California.