By Katherine A. McIVER
We can gain a sense of what the average (or artisan-class) person ate and what foods they preferred by looking at a few artists such as Leonardo da Vinci (1452-1519), who was supposedly a vegetarian, or Michelangelo (1475-1564), who purportedly did not care much about food, or Pontormo (1494-1557), who kept a record of what he ate in his diaries, even when he went out to a tavern with his friend, Bronzino (1503-1572). Another painter, when his artistic career was not going so well, tried his hand at cooking. Mariotto di Bagio Albertinelli owned and ran the Osteria del Pennello in Florence for which he was much praised. Apparently, Albertinelli was fond of wine, especially trebbiano, whereas Leonardo da Vinci was more interested in the science of making wine and its effects on the body, and this seems to be his attitude about food in general. Leonardo, writing in one of his notebooks advised: "eat lightly, chew well and whatever you take into you should be well-cooked. Let your wine be mixed with water." Although he was frugal, Leonardo preferred tasty meals like this one composed of bread, eggs, eel and "bericoccoli e pane," an oval-shaped sweet made with flour, sugar and honey, also called "cavallucci," a specialty of Siena. The meal was accompanied by a glass of good wine and cost 6 lire. Leonardo's notebooks are filled with comments about the cost and quality of food. He noted, for instance, that at Lake Como, they made a strong wine there and in large quantities and later he wrote that a bottle of wine, a pound of veal, and a basket of eggs cost 1 soldo each. Some items in his pantry included buttermilk, eggs, melon, grapes, mulberries, mushrooms, sorghum, flour, herbs, spices, beans, sugar, vinegar and wine. He also included shopping lists in his notebooks for both court feasts in Milan and his own household meals. Some of his notes suggest that he abstained from meat and was a vegetarian; however, his shopping lists occasionally mention meat, yet the lists were not just for his meals, but for his household as well. Leonardo's writings on nutrition and health do suggest a vegetarian lifestyle and it is of interest to note that the one and only cookbook that he owned was Platina's, perhaps the source for much of his dietary ideas. […]
Ever the inventor of machinery, Leonardo devised a roasting rack for anchovies (1515) that turned automatically for his cook, Maturina (a female cook, no less!), who was honored. In addition to inventing kitchen equipment, Leonardo also had ideas about efficient kitchen design: writing in the Codex Atlanticus, he suggested that
"the larger room for the retainers should be away from the kitchen, so the master of the house may not hear their clatter. And let the kitchen be convenient for washing the pewter so it may not be seen carried through the house… the pantry, wood stove, kitchen, chicken coup, and servants' hall should be adjoining for convenience… Food from the kitchen may be served through wide, low windows, or on tables that turn on swivels. The window of the kitchen should be in front of the pantry so firewood can be brought in."
While Michelangelo's biographer, Ascanio Condivi, tells us that the artist ate sparingly more out of necessity than for pleasure, taking a little bread and wine – Michelangelo's letters tell us otherwise. Most of what we know about Michelangelo's attitude toward food comes from the five volumes of correspondence and archival documents connected to his estates collected together in the archive at Casa Buonarroti in Florence. While he was in Rome, Michelangelo wrote, in the 1550s, frequently to his nephew, Lionardo di Buonarroti, requesting food and wine and complaining about how expensive everything was in Rome; yet he berated Lionardo for sending him a batch of unsatisfactory trebbiano wine, of which he was particularly fond. Lionardo sent Michelangelo produce and other items from the artist's Tuscan estates: cheese (caci marzolini), apples and pears, white and red chickpeas, green beans and peas, prosciutto, sausages, olive oil, and trebbiano wine. Still he complained about the quality, so Michelangelo was a picky eater, but clearly someone who enjoyed good food and did not eat just out of necessity. Michelangelo could also harvest fruit from his own garden at his home in Rome like figs, Muscat grapes, peaches and pomegranates, and he also had chickens for a ready supply of eggs. He received gifts of food (1557-1558) from Cornelia, the widow of his longtime housekeeper and assistant, Francesco Amatori (d. 1556) such as prosciutto, cheeses and sausages.
But perhaps most fascinating of all is the list of three menus for Lenten meals that he wrote on the back of a letter that had been sent to him by Bernardo Nicolini and dated 18 March 1518 while he was in Pietrasanta quarrying marble. (Incidentally, he made a kitchen mortar out of marble, too). It is a shopping list with sketches for his cook or servant who probably couldn't read and it shows Michelangelo's pleasure in simple, good food. For the first menu for two people, Michelangelo requested two bread rolls, a jug of wine, a herring and tortellini, for the second (for four people), asked for a salad, four bread rolls, a jug of full-bodied wine, a quarter of dry wine, a plate of spinach, four anchovies, and tortelli likely stuffed with cheese and herbs – but why two wines? For the third meal for six people, Michelangelo wanted six bread rolls, two bowls of fennel soup or stewed fennel, a herring, and a jug of full-bodied wine – "bochal di Tondo" in the last line refers to wine from the vineyards of Colle Tondo near Serraverzza, not far from Pietrasanta. Along with the list, Michelangelo included sketches of each item for clarification: the salad is in a wide, shallow dish with a tiny plinth, the spinach is piled in a small bowl, the stewed fennel is in round bottom bowls and the four anchovies are draped elegantly over the curved molding of their basin; the wine is in the appropriate jug. Only the herrings and bread rolls seem to float in mid-air. So were the dishes pre-made and purchased at a tavern or osteria by his servant and the bread from a bakery? And what about the anchovies and herring, presumably bought at the market, how were they to be prepared? We have an idea, then, of what the great artist had for lunch and that he certainly ate more than a little bread and wine while working – and he didn't eat alone either.
Again, like Michelangelo, Pontormo's biographer, this time Giorgio Vasari (1511-1574), suggested that the artist had little interest in food, stating that the painter "lived almost by himself, without desiring that anyone should cook for him." Yet his diaries (1554-1555) from the last years of his life when he was elderly and frail, like Michelangelo's letters, suggest something quite different. Eating at home in Florence in the evening for supper (1554), Pontormo ate a lettuce salad and an egg and fish frittata; on a Tuesday evening, his meal consisted of half a head of a kid and soup and on Wednesday evening he had the other half, fried and a "pretty big helping of zibibbo grapes and five quattini of bread and capers in salad." He drank wine and ate about ten ounces of bread at every meal; rosemary bread was a favorite. The food he consumed with his bread was locally produced; he obtained his produce from the vegetable garden, bought olive oil by the barrel, bottled his own wine, and kept his market purchase to a minimum. He prepared his food himself, most often bread, eggs and salad (often made of goat's beard), but also dishes that required time, like a meat pie or a head of cabbage or pea soup, all cooked with his own hands. Pontormo preferred simple, but flavorful dishes such as egg and artichoke frittata, egg and asparagus frittata, caviar, fried lamb's livers, "bollito" (boiled meats) with butter, roasted meats, lamb heart, boiled squash, fava beans and fruit like cooked apples, plums, figs, grapes, and walnuts. He began his modest meals with a salad, followed by meat or eggs and then some fruit. Often his Sunday lunches were followed by a light supper.
Like Michelangelo, Pontormo could be critical. He praised the crepes his former pupil and now close, caring friend, the painter, Bronzino made for him, while the cow his servant, Basiano bought for him was not even fit for a dog. If he went out to eat at the tavern, he ate the same things he ate at home and when dining with friends, he was generous with meat, especially on religious holidays, often paying for the mutton or fish. On one occasion when he had lunch out with Bronzino, Pontormo made special mention of a large fish they were served with a plate of small fried fish, followed by ricotta crepes that "were marvelous to eat." At the same tavern again with Bronzino, he noted the menu: a salad, cheese (cacio), a tort (which cost 2 soldi), an egg frittata, boiled lamb kidneys, boiled lamb and radicchio. After meals like this one, Pontormo would write that he did not eat dinner as he had already eaten too much. Pontormo was always conscious of his finances writing, "On Saturday afternoon, we went to the tavern, Attaviano and Bronzino and I. We had fish and eggs and aged wine and paid seventeen coins each." On another occasion, this time a Saturday in mid-May, he ate with his friend, Piero (di Cosimo?), a meal of fish from the Arno, lots of ricotta, eggs and artichokes. Pontormo ate a great deal of eggs and fresh vegetables, as well as lamb, pork or beef, stewed or roasted, but not sweet dishes. On only two occasions did he sweeten his frittata with sugar. Only twice did he mention pasta, vermicelli served to him by Bronzino.
Bronzino, was not just a painter who worked for the Medici family, but also a poet of some renown in his own day; he participated in Florentine literary academies and was friends with noted poets such as Francesco Berni, the principal figure of they burlesque poetic tradition in Italy and Benedetto Varchi. Three poems are of interest here: Della padella del Bronzino, pittore ("The Frying Pan of Bronzino, the Painter"), Della cipolla del Bronzino, pittore ("The Onion of Bronzino the Painter"), and Il raviggiuolo ("The Raviolo"). Bronzino's poems recall other burlesque poems on food, such as Berni's tributes to artichokes and peaches and Varchi's poems on fennel and ricotta. These poems suggest that Bronzino was a gourmet and must have been a fairly good cook. Interspersed within the 466 lines of his poem, Della padella, Bronzino praises what can be cooked in a frying pan: spinach, crepes, eel, chestnuts, veal, pork and hare which could be fried, boiled or roasted – and how to do it, too, adding a little oil or vinegar; roasting chestnuts in the pan required a cover and then was placed over the fire. As well, he fancifully celebrates the frying pan's admirable features:
"You have certainly seen eels, their heads cut off, and dead for a long time, the frying pan makes them spring back to life; and sometimes too makes a piece of pork or veal or hare or beef that jumps from the pan half cooked, sizzling and hissing. So what more do you want from it if it has the power to bestow movement and speech."
Cooking techniques are especially evident in Della cipolla; onions were added to soups and roasts, any meat, domestic or wild, from land or air. Interspersed within the 235 lines of the same poem, Bronzino gives us a recipe for what Maria Luisa Incontri Lotteringhi della Stuffa called panzanella or bread salad which could actually be made today; Bronzino's salad calls for chopped onions, purslane, cucumber, basil, arugula and other additions as you like. Moreover, the three poems give us a sense of what he liked to eat: pasticci, torte, ravioli stuffed with cheese or with meats, capons, soups, and roasts. Bronzino shows us a real appreciation of food, which we also see in Pontormo's writings, and he tells us how it should be cooked. Leonardo, Michelangelo, Pontormo and Bronzino ate and preferred much the same foods as the elite, but simpler meals with one or two dishes, maybe three, if they went out to the tavern to eat, perhaps more dishes depending on the occasion. Like the artisan class […], artists frequently ate meals in taverns or osterie, but they also cooked at home.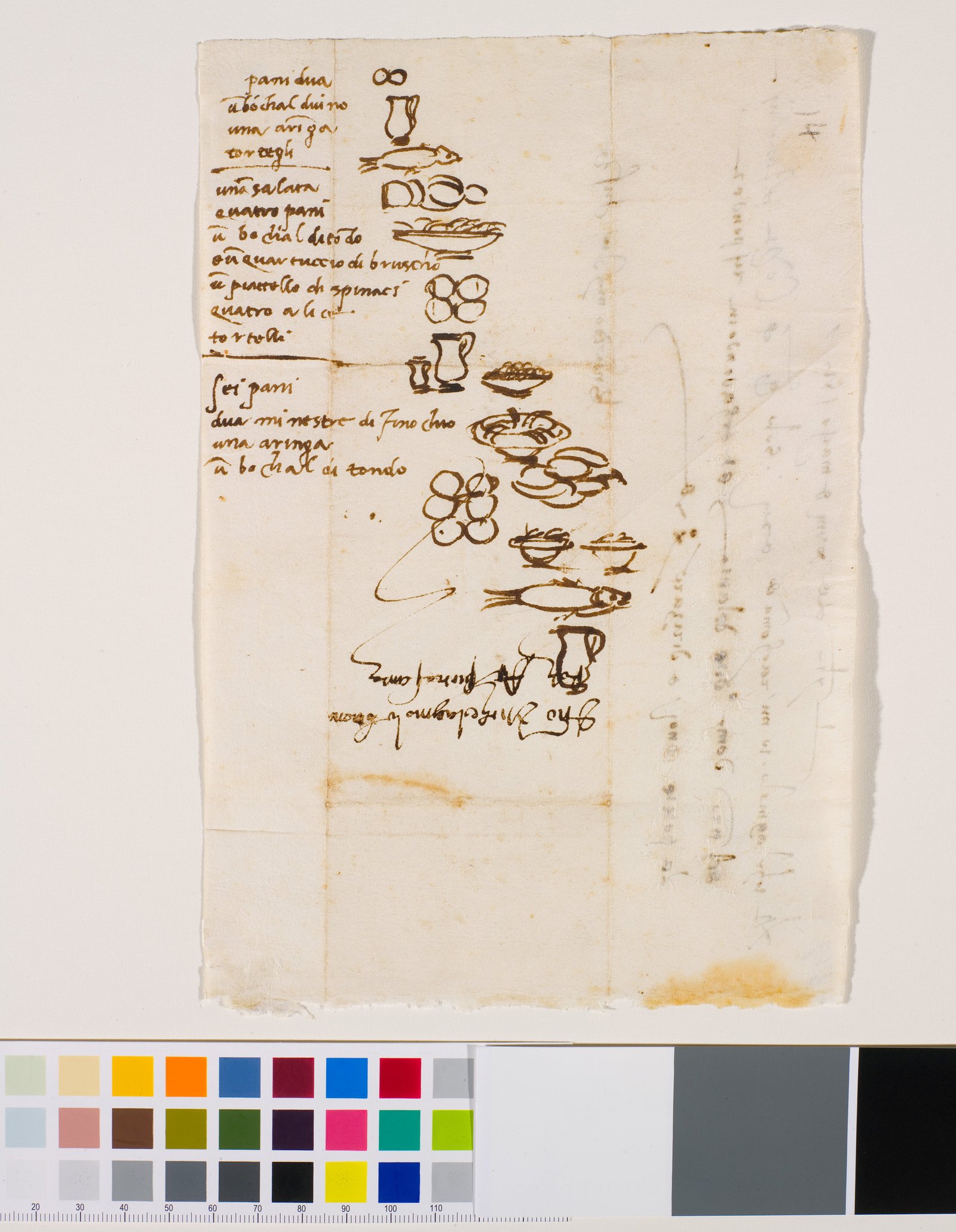 Caption: Michelangelo Buonarroti, Shopping List, 1518, Casa Buonarroti, Florence. Source: Scala/Art Resource, NY.
– Katherine A. McIver
[From Cooking and Dining in Renaissance Italy: From Kitchen to Table, by Katherine McIver. Copyright © Rowman & Littlefield. Used by arrangement with the publisher.]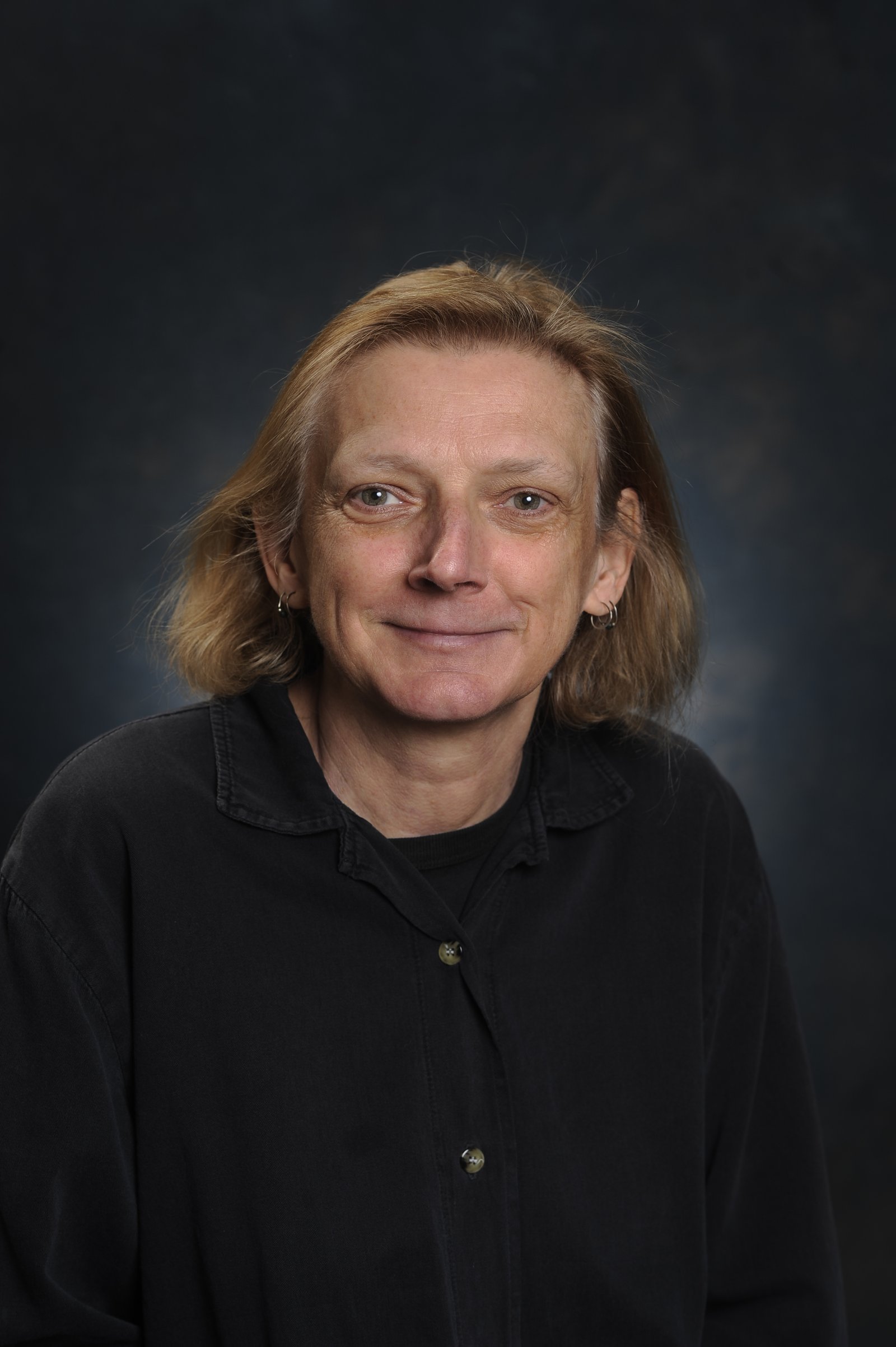 Katherine A. McIver is Professor Emerita of Art History at the University of Alabama at Birmingham. She is the author of Women, Art, and Architecture in Northern Italy, 1520-1580: Negotiating Power (Ashgate, 2006 winner of a Society for the Study of Early Modern Women Book Award), the editor and contributor of Art and Music in the Early Modern Period (Ashgate, 2003) and of Wives, Widows, Mistresses, and Nuns in Early Modern Italy: Making the Invisible Visible through Art and Patronage (Ashgate, 2012). She is co-Editor and contributor of The Ashgate Research Companion to Women and Gender in Early Modern Europe (Ashgate, 2013). Co-editors: Allyson Poska, University of Mary Washington and Jane Couchman, York University, Toronto and of Sexualities, Textualities, Art and Music in Early Modern Italy (Ashgate, 2014) co-editors: Linda Carroll, Tulane University and Melanie Marshall, University College, Cork, Ireland. She has an essay in Women and Portraits in Early Modern Europe: Gender, Agency, and Identity, edited by Andrea Pearson (Ashgate, 2008) and has published articles and essay on the artistic patronage of Italian Renaissance women. She has also written about dining: "Banqueting at the Lord's Table in 16th Century Venice" in Gastronomica, "Let's Eat: Kitchens and Dining in the Renaissance Palazzo and Country Estate," in New Perspectives on the Early Modern Domestic Interior, Stephanie Miller and Erin Campbell, eds. (Ashgate, 2013) and Cooking and Eating in Renaissance Italy: From Kitchen to Table (Rowman and Littlefield, 2015).