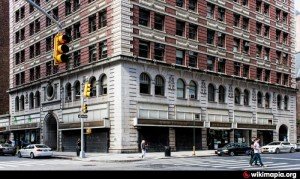 New York's beloved Italian bookstore, formerly situated on 57th Street, is projected to re-open on July 22, 2015. Rizzoli will join Eataly in the NoMad area at its new address of 1133 Broadway, on the corner of 26th Street. Renovations are underway in the 5,000 square foot retail space in the Beaux-Arts Saint James building, owned by the Kew Management Corp.
"For 50+ years the Rizzoli bookstore in New York City has attracted the discerning consumer of erudite, beautifully produced volumes on art, design, interiors, fashion, as well as literature, and important non-fiction books. Based on extensive market research in advance of the re-opening, we expect this customer-both New York-based, and visiting from all points national and international-to embrace the 21st-century version of their favorite bookstore," said Laura Donnini, CEO of RCS Libri's book division.
Once again, the Milan-based bookstore will inhabit an architecturally significant space, as it did in its former, distinctive midtown home. The historic location boasts an architecturally significant stone, brick, terra cotta and masonry building that dates from 1896. The design of the new store will embrace the old-world flavor of the 57th Street location, balanced with "contemporary innovations that will reflect the needs and desires of today's refined customer."
In the midst of an era that has witnessed thousands of bookstores closing their doors, why has Rizzoli chosen to re-open a bricks-and-mortar store?
"While e-books and e-commerce is unquestionably forcing a reexamination of retail practices, the sophisticated consumer's desire for a personalized and tangible encounter has created a newly robust market for an elegant, intelligently curated, and customer-service-oriented bookstore experience," said Ms. Donnini.
Rizzoli International Publications is a subsidiary of RCS Libri, the book publishing arm of the Milan-based RCS MediaGroup.