Star Chef of France Admits to "Secret Ingredient"
With six Michelin stars to show for his restaurants in Roanne, Burgundy, Paris and Tokyo, the renowned Chef Michel Troisgos, celebrates the Italian heart of European cuisine with his latest book entitled L'Italie (2009).
In a recent interview with the Italian national newspaper il Corriere della sera, Troisgros explains, "It is not question of superiority, but of history. From the time of Catherine de Medici, the Italian chefs have influenced French and European cuisine. The world knows pizza, spaghetti and mozzarella, but does not have enough appreciation for the 'cultural universality' and immense variety of Italian cuisine. For the taste, the technique of preparation, the creativity, quality of products and regional traditions, it is really the mirror or the landscape of a wonderful country."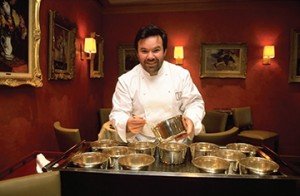 The book contains 400- hundred pages of photographs, anecdotes, interesting facts and of course recipes 'stolen' from Italy and adapted to the menus of Troisgros' restaurants. On his menus, one will find beet risotto, carpaccio, cannelloni and gnocchi.
The book also reflects the chef's Italian origins. His mother is Fruili-born and founded the Olympia restaurant in Roanne, France, with his father. "My grandmother Anna, married to a tenor, has spent his life cooking for everyone," he recounts. "Without the recipes of my grandmother I would not be who I am today!"
Chef Troisgros' Cannelloni filled with fromage blanc and swiss chard
8 squares of fresh pasta (lasagna sheets)
4 chard leaves
6 fromage blanc "faisselles" (fresh cheese in mini-colanders)
1 shallot
1 tbsp white wine vinegar
2 tbsp olive oil
1 tbsp heavy cream
Salt and pepper
Chives, chervil and tarragon
Drain the fromage blanc of its liquid. Trim, wash and blanch the Swiss chard leaves for a few seconds in boiling salted water.
Poach the pasta squares in simmering water. Cook them for 3 mins and refresh them in ice water. Drain. In a bowl, mix the cheeses with the finely diced shallot. Then add the vinegar, olive oil and cream. Season with salt and pepper. Set aside in the refrigerator.
Place the 8 squares on a work surface. Cover with the chard leaves, then place a spoonful of the filling in the centre. Roll into a cannelloni shape. Place them side by side in a baking dish.
Just before serving, warm the cannelloni in the oven and place 2 on each plate. Drizzle with olive oil and sprinkle with fresh herbs